The classic form of espionage films have withered away in today's generation, and have mostly been portrayed in over-the-top manners in several blockbusters over the years. Leave it to the British film industry though to deliver us a spy film of complexity and class with the newest adaptation of
John le Carré's classic spy novel "Tinker Tailor Soldier Spy," which was originally a seven part BBC miniseries that starred Alec Guinness as British intelligence officer George Smiley. This adaptation though, takes what is quite possibly the greatest British cast ensemble in quite some time and a director climbing the ranks of the greatest current international filmmakers, which turns into what has to be one of the most overlooked potential award-nominated films of last year, and the perfect kickoff to my awards season catching up marathon.
In the bleak days of the Cold War during the 1970s, the head of British Intelligence, Control (John Hurt), resigns from his job after a failed operation in Hungary leaves agent Jim Prideaux (Mark Strong) wounded from a gunshot fired by a Soviet agent. However, Control concocts a conspiracy that one of the four senior figures in the business was in fact a mole doubling as a Russian agent- and that the main intent of the Hungary operation was to identify which of those officials were in fact the mole. In the wake of this theory, formerly retired George Smiley (Gary Oldman) is brought back into the field to uncover the identity of the mole with the assisted intel of rogue agent Ricky Tarr (Tom Hardy) and Smiley's trusted right-hand man Peter Guillam (Benedict Cumberbatch). The four suspects, one who could be the mole are the smug new chief of the "Circus" Percy Alleline (Toby Jones), the mocking Bill Haydon (Colin Firth), second-in-command Roy Bland, and messenger Toby Esterhase (David Dencik).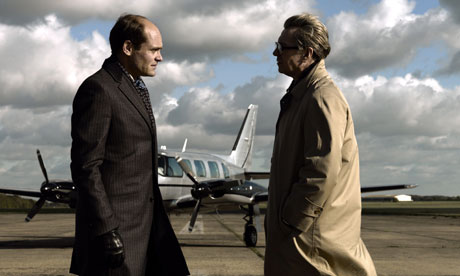 For a British ensemble cast, they really don't get much better than this. Gary Oldman delivers one of the riveting performances of his illustrious career as George Smiley. While portraying a character that is reserved in both appearance and personality, Oldman's performance is more external than vocal as it relies mostly on his quiet yet intimidating facial expressions that are just a thing of acting beauty to witness. His character doesn't say much throughout, but there are two key monologues that Oldman delivers with such forceful, compelling grace that leave you in awe for how great of an actor he's been in his lengthy career. In addition to Oldman, Benedict Cumberbatch delivers an understated performance as Smiley's faithful assistant. The supporting cast including Colin Firth, Mark Strong, Tom Hardy, and more, also hold their own to great effect whenever their characters are on screen, too, but this is really Oldman's event to showcase to the Academy for the long-deserved Best Actor nomination he's never received.
Hot off of the critically acclaimed 2008 vampire film "Let the Right One In," director Tomas Alfredson delivers once again with his signature suspenseful, brooding atmosphere. His slow pacing of the film's events works to perfection in order to give the viewer time to comprehend the key scenes before the next big twist hits them. In addition, he builds up the film's suspense to great effect, even with the absence of shootouts, fistfights, and cool gadgets that you typically see in most spy films of this current generation. Alfredson also nails down the 1970s era in the most authentic way possible, and his attention-to-detail to the art direction with the help of production designer Maria Djurkovic leaves you in awe with the images that surround the characters in each scene. The cinematography is also noteworthy, featuring an array of wide shots that feature beautiful foreign landscapes along with tight angles during tense conversations that are key to the film's plot.
Screenwriting duo Peter Straughan and Bridget O'Connor (who died before the film's release) craft together one of the most terrific scripts of the year, creating a plot full of intrigue and complexity while still developing each main character to a solid enough level. Additionally, they give dialogue to just about every character that is both smart and vital for the viewer to pay attention to. A common complaint made those who have already seen the film is that they made the plot too complicated, especially with many scenes that cut between both the past and present, but I found it easy to follow since I payed close attention to every scene leading up to the big reveal of who the mole is.
Though it may not be accessible for the average cinemagoer, "Tinker Tailor Soldier Spy" is an impeccably crafted, complex spy drama filled with great performances from its star-studded ensemble, artistically suspenseful direction from Tomas Alfredson and a smart script filled with great dialogue and unexpected plot twists. Hopefully this film hits it big at the BAFTAs so the Academy can recognize it as one of the most overlooked awards contenders of 2011, especially for Gary Oldman's chances at a Best Actor nomination.
Final Grade: A-